You are here
Grant Reform in the Home Stretch - Regulatory Train Wreck?

Printer-friendly version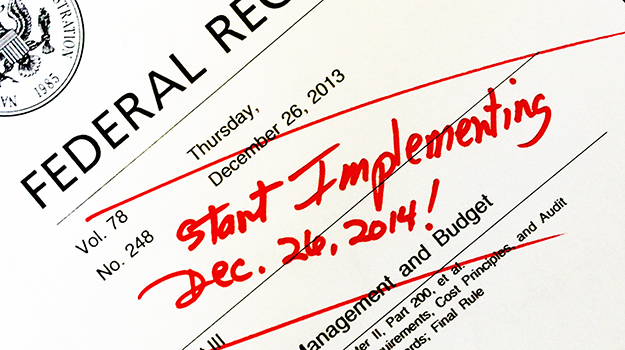 The latest webcast, convened on October 2, 2014 by the Office of Management and Budget (OMB) and the Council on Financial Assistance Reform (COFAR), indicates that the Uniform Guidance (popularly known as the Super Circular) is rapidly reaching its December 26, 2014 arrival date.
As the Uniform Guidance train approaches will we encounter another regulatory train wreck, or something different? What did we learn from the webcast?
My take on it is that there won't be a train wreck, but that there are plenty of cautionary signals as implementation approaches in late December of 2014. Here are some key takeaways from the webinar moderated by OMB's Victoria Collin:
The Multi-agency Uniform Guidance will first appear as an interim final rule.

Nonprofit organizations and the university community will have a one-year grace period to bring their procurement systems into compliance with the revised procurement standards of the Super Circular.

Expect some tweaks to the multi-agency version of the Uniform Guidance based on the late August edition of the OMB\COFAR Frequently Asked Questions update. ( https://cfo.gov/wp-content/uploads/2014/08/2014-08-29-Frequently-Asked-Questions.pdf )

OMB hinted that it and COFAR may issue technical corrections and further changes to the initial version of the Super Circular first published December 26, 2013.

The continuing series of Frequently Asked Questions (FAQ) updates appears to stand on par with the Super Circular itself because it is an agency interpretation of the Uniform Guidance.

The concept of "conditional title" to property purchased with federal grant funds does not affect the vesting of title in the grant recipient. Nothing changes. A good way to think of conditional title is to say that the federal government has at least a revisionary interest in property purchased with grant funding if the grant recipient is exceptionally non-compliant and the property above the $5,000 threshold is in danger of loss, theft, or destruction.

Must does mean must, and should is advisory, as in best practice guidance. This is the view shared by OMB and some of the COFAR representatives–but the audit community may not have same view. There was some evidence at the briefing that they may regard the COSO model and the GAO Green Book as something much more than advisory best practices.

At the briefing, OMB and the COFAR addressed the procurement standards in a significant way, as they did in the August FAQ guidance. Micro-purchases should be rotated among potential suppliers. Small purchases ($ 3,000 to $150,000) are treated as simple and informal methods of procurement in which procedures and documentation are not required to be as extensive as purchases above the small purchase threshold. In essence you need price or rate quotes from two or more sources with no requirement for cost or price analysis. However, despite the flexibility expressed orally and in the FAQ document, grant recipients must be alert to the Uniform Guidance provision at 2 CFR 200.318 (i) concerning procurement history and documentation.
At this point what might we say about the Super Circular when implementation inevitably arrives in late December of 2014? Grant reform as envisioned by OMB and the COFAR will be burdened by carloads of regulatory tweaks, technical corrections, and more than a few unanswered questions. This upheaval will be a drag on grant reform and the implementation train has yet to reach the station.
— Henry Flood, Senior Advisor for Grants Administration
We welcome you to link to these pages and to direct people to this information on our site. 
Please contact us for permission if you'd like to use this copyrighted material in some other way: 
info@tgci.com.  We love to hear from you!
© Copyright 2014 The Grantmanship Center. All rights reserved.
You're welcome to link to these pages and to direct people to our website.
If you'd like to use this copyrighted material in some other way,
please contact us for permission: info@tgci.com. We love to hear from you!
A follow-up study of 385 of our graduates found documented that they won grants totaling over $21 million within just six months of completing the 5-day Grantsmanship Training Program®. Our training produces results!