You are here
A Logical Call to Action: Grants as Advocacy, Not Just Asking

Printer-friendly version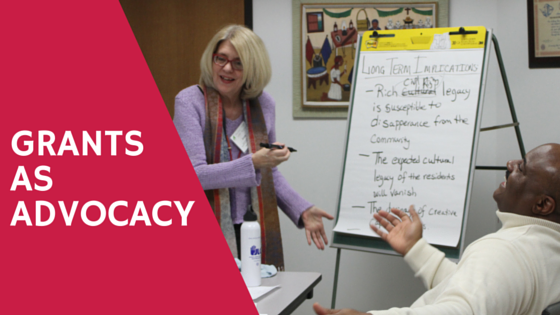 We all know what a grant proposal is. It's a document we write and submit to private or government funders requesting money to support our organization's work. Right? While grant proposals do indeed request funding, I think this standard definition falls short and points us in the wrong direction. Grant funding is a tool for making something better, and since the real goal is impact instead of money, I propose an expanded definition.
A grant proposal is a document that articulates a logical call to action and requests partnership in achieving specific change. This definition moves the work well beyond reactive, dollar-chasing and into the realm of social activism. It's no longer about supporting "our organization." It's about linking arms with colleague organizations, beneficiaries, community members, funders, and staff members to embrace a mission and confront the dragons.
Acknowledging grant proposals as tools for social change argues that grants professionals must be fully integrated into the areas of organizational development, needs assessment, program planning, partnership building, and evaluation. Sitting apart from those essential activities and churning out applications becomes unworkable.
Focusing on the articulation of a logical argument for action also places the grants professional in a central role on the resource development team. We all know that high-quality relationships with contributors, major donors, and grantmakers are essential. But a powerful and logical call to action is also essential and once it's been hammered out, every board member and staff member at the organization is better prepared to advocate. It's about advocacy, not just asking.
Embracing grant proposal development as advocacy challenges the resource development team to impose standards on its work that may be higher than those demanded by funders.
Studying the issue, hearing various and sometimes dissenting voices, looking at it through different lenses, and then digesting it all until we can concisely and precisely explain what concerns us, why it needs to be changed, and what's causing the situation.
Specifically defining what changes we plan to achieve, the degree of change we expect, and how we will track progress.
Identifying the actions that have the highest likelihood of producing the desired change, documenting why we expect the approach to succeed, and committing to exactly what we'll deliver within a set time frame.

Imposing accountability on ourselves rather than expecting some outside watchdog to do it.

Communicating fully and honestly with staff members, beneficiaries, board members, the community, contributors, major donors, and grantmakers. Claiming and celebrating successes, and acknowledging, examining and learning from failures.
A top-quality grants professional is not just a writer, a completer of forms, a person who answers the funders' questions, or a person who regurgitates information. That professional is a rain-maker, a change-maker, and a social activist. He or she finds the sweet spot where the needs of the community, the commitment of the funders, and the capacity of the organization meet and align to make things happen.
— Barbara Floersch, Chief of Training & Curriculum, The Grantsmanship Center
We welcome you to link to these pages and to direct people to this information on our site.
Please contact us for permission if you'd like to use this copyrighted material in some other way:
info@tgci.com. We love to hear from you!
© Copyright 2015-2016 The Grantmanship Center. All rights reserved. 
You're welcome to link to these pages and to direct people to our website.
If you'd like to use this copyrighted material in some other way,
please contact us for permission: info@tgci.com. We love to hear from you!
A follow-up study of 385 of our graduates found documented that they won grants totaling over $21 million within just six months of completing the 5-day Grantsmanship Training Program®. Our training produces results!