You are here
Jess Peláez, Blueprint Earth

Printer-friendly version
We're excited to start our Alumni Spotlight Series. First up is Project Grantsmanship alum, Jess Peláez, Founder & CEO of Blueprint Earth.
Collecting sheep feces and urine? Science is so glamorous. Geologist Jess Peláez started the nonprofit Blueprint Earth to study and preserve our environment. The term blueprint is taken literally with the Mission Mojave project, which brings scientists and students together as they collect environmental samples of one square kilometer in the Mojave Desert. "Blueprint Earth is cataloguing everything in the environment so we can preserve it and restore it should it ever become damaged," Jess explains. Blueprint Earth is moving toward the final stages of Mission Mojave, where after collecting samples from the field, they will put them in a warehouse to recreate the environment. Jess wants to study it thoroughly from the water to the bats and birds--asking where are the connections? Once those connections are determined, it will be plausible to for example, put mice in that space, but not bighorn sheep! That's why she's got the oh-so-glamorous job of collecting sheep feces and urine to make sure that the simulated environment stays true to the blueprint! 
Blueprint First is another program they're working on where volunteer scientists, including geologists and hydrobiologists, bring science to life to about 300 second to fifth graders, as well as special needs students, at an elementary school in Pacoima. These young students are exposed to an alternative idea of what a scientist should be or look like since the volunteers that Jess recruits are as diverse as the school children. The hope is that these encounters will inspire and encourage the students that science is not intimidating and it's for everyone. There are future plans to expand this program to include high school students.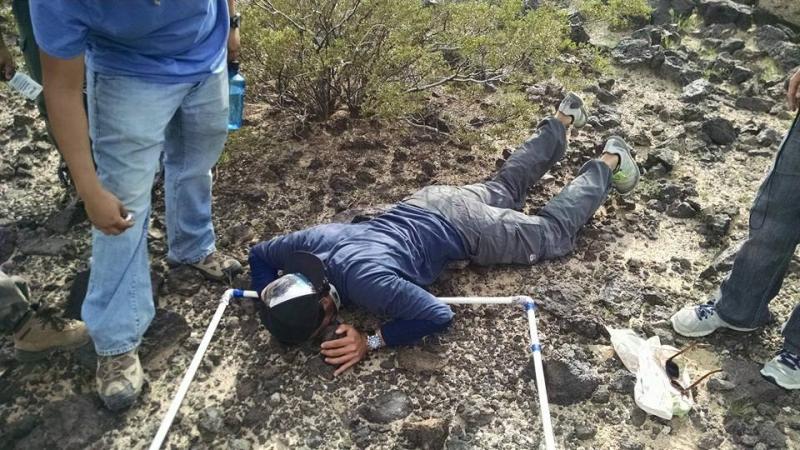 Jess began studying English and History in undergrad and then shifted to Geology. She noticed that science was becoming too compartmentalized, which kept people from seeing the whole picture. One aim of Blueprint Earth is to see how all of the sciences intersect, and that can be seen in Mission Mojave. When recruiting scientists, there was apprehension at first because they were afraid of the topics outside of their focus. That's the beauty of Blueprint Earth: Jess encourages each of the scientists to focus on their speciality, and then collaborate to see how they merge and intersect in Mission Mojave. 
Starting Blueprint Earth was exciting but also a challenge because they quickly realized it was hard for people to understand what it is they do. One example Jess gives when explaining the work of Blueprint Earth is climate change: "We can't just say 'let's reduce water consumption or cut car emissions', we have to look at the whole environment and learn from it." Another challenge is funding. Because Jess is a respected scientist, she has been supporting Blueprint Earth through speeches, interviews, and appearances on TV shows such as Discover Channel's Trailblazers. 
Jess became frustrated when she tried looking for a grant proposal writer, and found them to be too expensive for their lean budget. She started looking for grant training and learned about Project Grantsmanship through an email subscription she had signed-up for.
Before taking Project Grantsmanship, Jess was approaching grantmakers as a scientist running a nonprofit. Many scientists have it in their minds that, "'I'm doing good science, so give me money!'" But that's not how it works, especially in the nonprofit world. Project Grantsmanship helped her to realize that she's actually a nonprofit leader who happens to be a scientist. It was "...nice to be in a room of people who understand the struggle of being a nonprofit," she said.
"Our level of proposal writing has skyrocketed since taking Project Grantsmanship because now I know what I'm doing." She might even apply for a federal grant. They just need to synthesize their data and research to prove they're ready for funding, which they'll have more time to do this summer. Before Project Grantsmanship, Blueprint Earth was applying to grantmakers that were maybe an 80-90% match to their organization and its mission. After getting feedback on one of their LOIs (Letter of Intent), an alumni membership benefit for all of the Center's graduates, Jess feels confident that they'll be able to take those suggestions and merge it with her new knowledge from Project Grantsmanship on finding the right funders to win grants this fall and next year. 
But they're not looking to be grant funded forever. She wants Blueprint Earth to be self-sustaining by opening a lab. The main instrument they'll use is a mass spectrometer that analyzes soil, water, and gas samples, so the scientists and researchers can identify the contaminants in it. She hopes they can train and pay high school students and burgeoning scientists through this enterprise. 
Project Grantsmanship also helped Jess reconsider who should be on her board. It was made up mainly of scientists with one fundraising person. "My board members didn't understand the need to spend money on marketing." As the board develops, the organization will search for more diversity among its members to bring perspective and balance. A diverse board is key to the success of any nonprofit.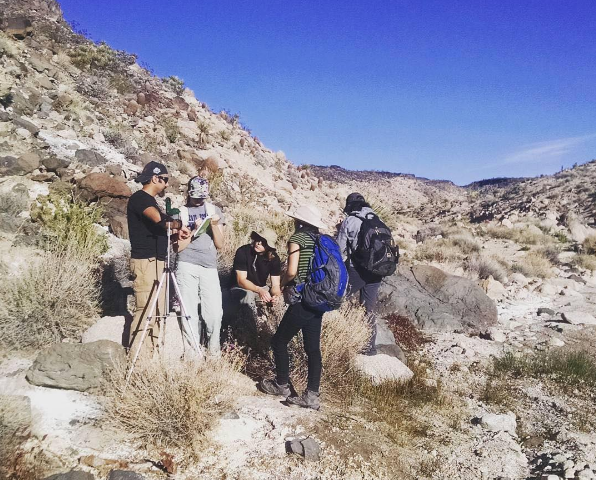 For those of you that don't quite remember your high school science class (ourselves included!), Jess explained to us that good science is replicable. Hence the Mojave Mission project. Recreating this special environment is the final test, and we at The Grantsmanship Center feel the same about what you learn in our training programs. While each grant application will not be identical in content, the logic models and the argument you build in seeking a partner for your project or organization will be consistent. We're so proud that Jess is one of our alums and is such a strong advocate for the Los Angeles area as she pushes for LA to be a hub for environmental science. 
If you'd like to volunteer with Blueprint Earth in any capacity, please sign up here.
And to see if you qualify for Project Grantsmanship, or to apply for Project Grantsmanship, please contact Project Grantsmanship Coordinator at 213-482-9860 ext. 248. You can see if you qualify here. 
—Amy Van Mechelen
We welcome you to link to these pages and to direct people to this information on our site.
Please contact us for permission if you'd like to use this copyrighted material in some other way:
info@tgci.com. We love to hear from you!
© Copyright 2016 The Grantmanship Center. All rights reserved. 
You're welcome to link to these pages and to direct people to our website.
If you'd like to use this copyrighted material in some other way,
please contact us for permission: info@tgci.com. We love to hear from you!
A follow-up study of 385 of our graduates found documented that they won grants totaling over $21 million within just six months of completing the 5-day Grantsmanship Training Program®. Our training produces results!