You are here
An Inaccurate or Confusing Budget Will Sink Your Proposal

Printer-friendly version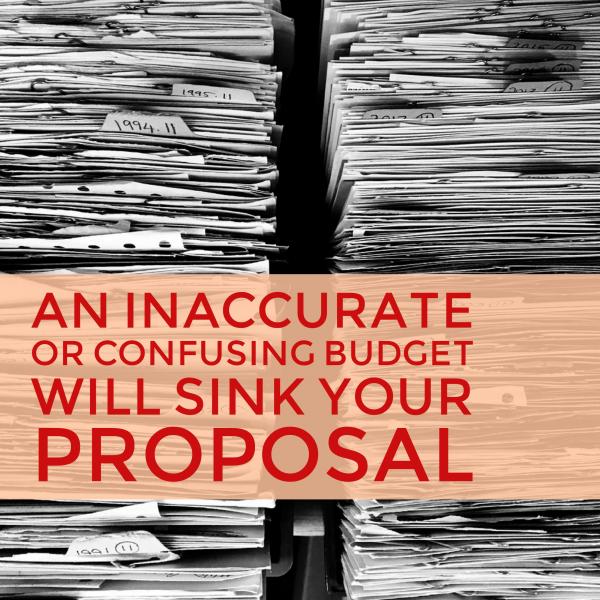 In the world of grant proposals, the budget comprises as little as 5% or as much as 20% of the points you'll be awarded in the federal review process. Yet, for many, preparing the budget and budget justification is the most troublesome and time-consuming part of the proposal development process.

In developing a grant proposal, it's standard to focus on those sections that carry the most points in the review process. But an incorrect budget with figures that don't add up, don't make sense, or don't precisely reflect the proposed activities is usually fatal even if other parts of the proposal are solid.
Reviewers often begin their work with a quick look at the proposal summary and the budget. This gives them a first impression of the reasonableness of the planned activities compared to the costs. Experienced reviewers spot budget weaknesses right away and will quickly conclude that a bad budget equals a bad proposal. If the numbers are inaccurate, confusing, poorly explained, or unrealistic it's hard for the proposal to overcome that weakness.
Learn how to make sense of your budget in our upcoming training programs.
— Henry Flood, Senior Advisor for Grant Administration
We welcome you to link to these pages and to direct people to this information on our site.
Please contact us for permission if you'd like to use this copyrighted material in some other way:
info@tgci.com. We love to hear from you!
© Copyright 2015-2016 The Grantmanship Center. All rights reserved.
A follow-up study of 385 of our graduates found they had won grants totaling over $21 million within just six months of completing the 5-day Grantsmanship Training Program®. Our training produces results!